Mahseh History
Debbie Waidner Wingerter grew up coming to Lake Bruce for the summers. In the 1940's, her grandpa had purchased the strip of land from Mahseh down to the channel, and sold it off in ten parcels, keeping for himself one narrow forty foot strip near the middle. Deb's family has a history of practicing hospitality, first with her grandparents and then her mother and father welcoming countless friends to their tiny Lake Bruce cottage.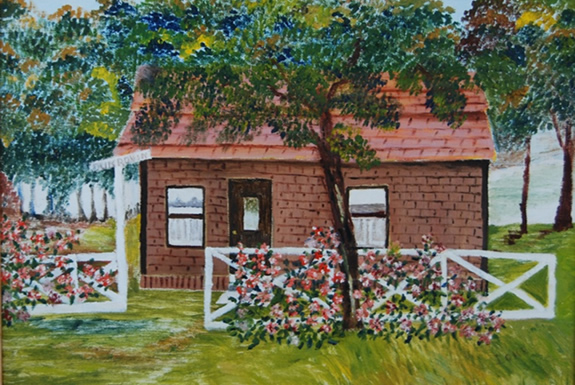 The original cottage, circa 1960-1970. Oil by Ione Wilkerson, 1975.
Twenty years ago, Deb and her husband, Rob Wingerter, began to dream of sharing the beauty and the peace and the refuge that Lake Bruce had been for their family. They wanted to create a place for Christians to come for retreat and refreshment and to draw near to God, to study and talk and share with one another.
About 1998, one opportunity after another began to open up for Rob and Deb to purchase cottages adjacent to their own, the original family cottage. They bought the red cottage next door, then the A-frame that still stands and then at the channel, Lake Bruce Resort with four fishing cabins that were too far deteriorated to salvage. By this time Norm Stiegley took down the three cottages at the south end of the strip Deb's grandpa originally purchased. In 1995 Norm constructed "the big blue house" that he designed. This large home amazed many folks around the lake – it was so grand for a small fishing lake like Lake Bruce.
After living in "the big blue house" for  about ten years, Norm and his wife, Barb, decided to sell their beloved home in favor of a smaller home to manage. Norm found it difficult to find someone interested in buying such a large home on a small lake; we believe God had other plans.  In 2006, Rob and Deb set up Mahseh Ministries as a not-for-profit corporation. Mahseh purchased the house, and in 2008 the big blue house officially became the Mahseh Center. Mahseh (ma –SAY) is Hebrew for "refuge". Mahseh Center is designated as a place for Christian retreat and study. A grant from the Joshua Foundation allowed for the initial acquisition of Mahseh. The suggested donation helps defray the cost of cleaning and basic maintenance. To allow for repairs and  improvements as well as future programs at Mahseh additional contributions are much appreciated. (See How You Can Help)
Dr. Mark Eckel served as Director at Mahseh from 2008-2009. Rob loves reading and collecting books and has contributed many books from his personal library, but Mark is responsible for amassing the vast majority of books in the extensive Mahseh Library. Max Weiss served as host and caretaker from 2009-2010 and is responsible for labeling and cataloging the entire collection of books at Mahseh. At the beginning of 2011, Ron and Alison formally joined Rob and Deb in this Mahseh adventure. Through a series of events we believe God orchestrated, Ron and Alison sold their home in Terre Haute, Ron resigned from 34 years working as a professional engineer, they regretfully said their goodbyes to family and friends in central Indiana, but also fortified with the blessing of those they so hated to leave, moved to Lake Bruce and now live here full time. Their home is Sunset Cottage, the dark blue house next to Mahseh. This was built in 2011 on the ground that was the final parcel of the entire strip of land purchased by Deb's grandpa. Mahseh Ministries purchased the property and replaced the little white cottage with Sunset Cottage. Rob and Deb were dubbed "the founders of the feast"; now Ron and Alison hope as the years roll forward that along with Rob and Deb, Ron and Alison will become known as the "keepers of the castle".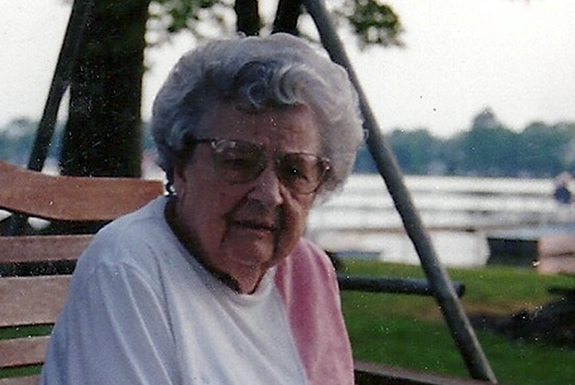 Debbie's mother, Dortha Waidner, was known to most of us as "Grandma Waidner". After the death of her husband, Fred Waidner, in 1993, Dortha's decision to sell her Mishawaka home so she could keep the cottage at Lake Bruce marks just how much this place has impacted lives in the Waidner-Wingerter families. Grandma Waidner died in 2007.  Her legacy is the open doors and open hearts at Mahseh, and the Mahseh library, named to honor her memory, the Dortha Strong Waidner Memorial Library.