House and Grounds
For You have been my refuge, a strong tower against the enemy. Psalm 61:3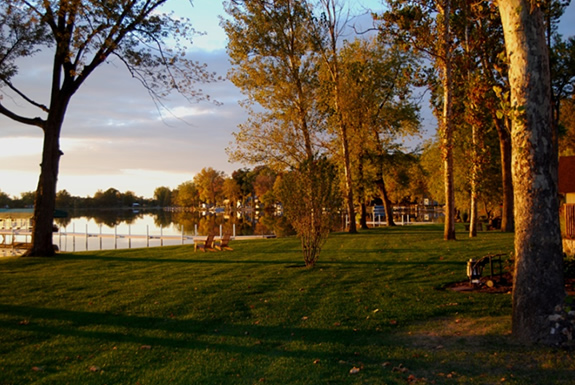 The House and Grounds - at a glance
Here we give you a brief listing of Mahseh's offerings for bedrooms, bathrooms, and living areas and the grounds. For a more detailed view of the Mahseh House, we invite you to Take a Guided Tour.
Beds and Baths
Mahseh currently has eleven bedrooms. Eleven bedrooms each have a queen size bed plus four have a twin bed as well.  Two bedrooms are on the main floor and nine bedrooms are on the second floor. Also, a twin Murphy bed pulls down in the basement library, there are two fold out couches and we have three roll aways.
The house has a total of nine bathrooms. six are full bathrooms; three are half baths.
Additionally, overflow guest may be housed next door to the Mahseh house in Sunset Cottage. This is the home of Ron and Alison Wingerter, hosts and keepers of Mahseh. A walk out basement provides easy access to two basement bedrooms plus shared bathroom.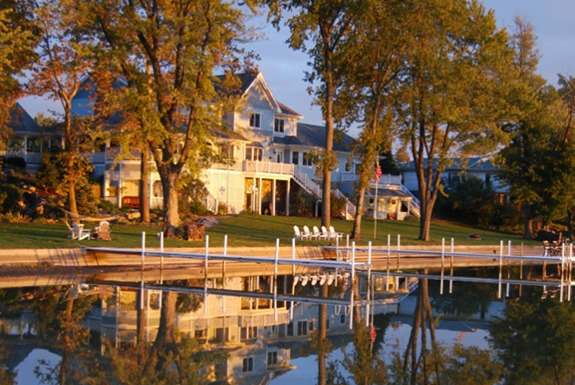 Living Areas and Grounds
Living room
Dining room with a table that extends to seat a maximum of twenty
Two kitchens, one kitchenette (for details see Kitchens Equipment and Supplies)
Walkout basement includes one of the kitchens, media center (projection TV with DVD player, projector for Power Point), recreational activities including a pool table, and access to the outdoor grill
Dortha Strong Waidner Memorial Library with 6000+ books located in the basement
Free Wi-Fi throughout the house
Deck surrounding 3 sides of the house
Two main floor gazebos
One basement level gazebo 
Prayer Chapel
Extensive gardens and waterfall
Multiple places to sit by the lake, in the gardens, on the decks
Lake side pergola